Coming Soon
Thursday, 28 December 2023
"Ali" is a pediatrician with a quirky personality and is about to marry his beautiful fiancée "Dalia". Hilarious events begin to unfold on the day of the wedding, when the father of the bride and ex conman "Daoud" is released from prison. "Ali" suddenly finds himself embroiled in a gang revenge war which spoils his wedding day and his highly anticipated honeymoon.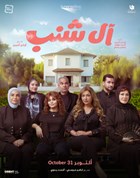 Thursday, 01 February 2024
A sudden passing away forces all members of the Al Shanab family to gather in Alexandria. Despite their grief, the different relatives comprised of three generations, go through a series of comic situations that forces them to realize the love they share for each other.
Thursday, 04 January 2024
Life circumstances push the football lover, Maged, to let go of his luxurious life and transfer from his private school to a public one. There, through his football skills, Maged is able to earn the respect of his new friends and joins their street football team. Together, they dream of joining "El Hareefa" school tournament to win its one million pound prize!